Finding the perfect gift for Christmas, Hanukkah, birthdays, or anything else you celebrate can be a struggle. You hope to find something that the person will enjoy and actually use. It's an added bonus if that present is good for them in terms of their lifestyle, and it's long-lasting. If you're really stuck on what to get someone, think about something that is versatile and can be personalized. Our solution to all of the requirements would be a virtual reality set. Read on to see why giving the gift of VR would be beneficial to anyone's future.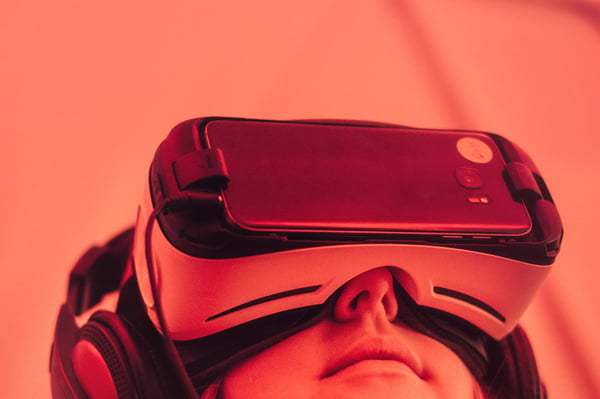 For the Gaming Enthusiast
Those that enjoy games a little more than just as a casual hobby would probably love to take their games a step further by getting fully immersed in the gameplay. While VR games have not become as popular or mainstream as the typical console games, there are still a lot of options to choose. Whether you look on Steam, the Oculus store, or Viveport, you can find the same usual game categories, such as action/adventure or puzzle. There are also some games that have been remade specifically for the virtual reality experience, like Street Fighter and Resident Evil. Don't forget that we have our own VR games available on Steam! DinoFense is a strategy game that gets increasingly more difficult as the levels progress. GoWings is designed for kids to get accustomed to VR gaming.
For the Health Nut
Those interested in finding the best new health tech and trends can use VR to supplement their healthy lifestyle. At Blue Goji, we aim to add an active component to all our games–and we're not the only ones! VR games that give you a cardio workout are on the rise. Sites like VR Fitness Insider and Fitness-Gaming often showcase the best games to help you get a great virtual workout. In addition to physical fitness possibilities, VR also has several meditation experiences available. These tools can help you manage stress and stay on top of your mental health.
For the Average Person
So, what about those that like games and like to be healthy but aren't obsessed with either one? There's good news: VR is so versatile that there's absolutely something available for everyone. From cinematic shorts to unique apps, like Tilt Brush, anyone can enjoy what VR has to offer. A quick look on the aforementioned VR stores will quickly tell you how many options exist. The average person can have fun exploring all of the possibilities of their new headset, and may even find a new hobby in the process.
If you plan on purchasing a VR headset, it's important to note the differences between all the various kinds. While mobile VR is typically the cheapest option, it does not offer the same capabilities as higher-end models, such as HTC Vive and Oculus Rift. For entry-level users, mobile VR might be the way to go. Oppositely, for anyone more serious about getting into VR, investing in a more powerful headset is a better choice. However, be aware that the higher-quality headsets require a gaming computer, or one with similar capabilities. Regardless of which option you choose, VR is gift that the whole family can use!
For any questions or comments, you can always reach out to us in a comment below or tweet us. If you've enjoyed our blog thus far, don't forget to subscribe to receive monthly recaps of our most recent posts.
Photo by Samuel Zeller on Unsplash