With holiday weekends, great weather, and no school, summer is a very popular time to travel. While it's fun to get away, going on vacation doesn't have to mean leaving your fitness routine behind, regardless of a gym being readily available or not. There are plenty of ways to stay active on the go: at the airport, at a hotel, even at a pitstop. Keep reading to learn our tips on getting your heart rate up on your next trip.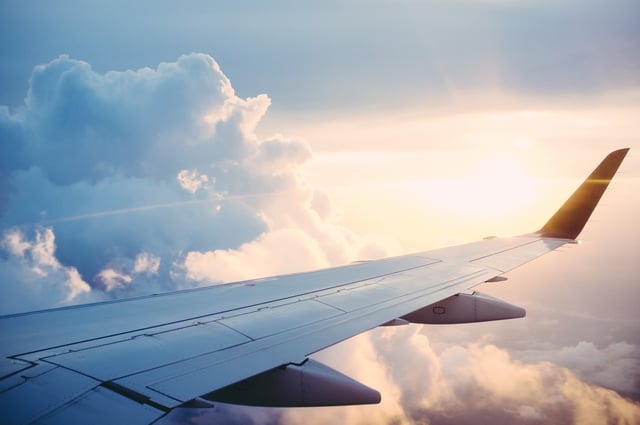 At-home workouts can sometimes be seen as inferior to workouts in a gym but just like at the gym, you get out what you put in. Pushing yourself while using what's available to you is the key to keeping up your fitness while on the go. Remember how there are lots of ways to squeeze in activity into your workday? The same principles apply while away: take the chances you get to make your vacation routine more active.

Walking has a plethora of benefits, such as boosting your mood and improving circulation to name just a couple. Even if your destination is a plane, a train, or a car away, make time to walk once you're there. Walking from your hotel or Airbnb to various sights and restaurants rather than taking a taxi or an Uber will let you see more of your vacation spot while also keeping you moving. Depending on where you're visiting, you may even be able to participate in a walking tour of the area.

Just as a hotel acts as a temporary home while on the go, the rooms typically offer ample space to complete an at-home workout. To easily find exercises you can do with what's available to you, try searching on YouTube or Pinterest for exactly what you're hoping to do. For example, "Core Yoga for Beginners" will bring up various videos that all satisfy the search. Searching for a few different types of workout, such as strength and cardio, can give you a complete workout without ever having to leave the room.

In the vein of using what's available to you, take advantage of your surroundings whenever possible. It may look strange to do lunges through the security line at the airport, but using a chair at an empty gate to do some incline pushups is not really out of the ordinary. In hotels or other rooms, you can also use furniture to help you exercise. Use surfaces like tables and counters to help you stretch, or even use your baggage as a weight to lift.

If you think pit stops aren't the place for a workout, think again! Although it's more difficult to find a dedicated space at stops along a road trip route, it's still quite possible. After sitting for a long period of time, a pit stop is the perfect spot to stretch. While stretching may not be a vigorous exercise, it's still vital for your body. Spending adequate time stretching will help you be ready for a workout once you reach your destination while also making your body feel better about so much sitting.

Whether you have an on-the-go lifestyle or you only travel when you can't avoid it, staying active while away can sometimes be tough. While we encourage you to keep up with your fitness routine as much as possible, it's also perfectly reasonable to want a true vacation–including a vacation from working out. Taking a few days to spend meaningful time with family and friends is just as important for mental health as exercise is for physical health. Let yourself enjoy a nice vacation, but also know it's possible to work out at a hotel/airport/pit stop if you so choose.
Have more ideas about exercising on the go? Leave us a comment or tweet us your ideas!