There are two kinds of people: those that love pumpkin spice anything and those that dread the return of it. Lucky for the latter group, there are plenty of other flavors to enjoy that are in-season during the fall months. While some farmers markets are selling their last harvests in October or November, you can still find fall produce if you know what to look for. Root vegetables, gourds, and apples are staples but figs, grapes, and pomegranates can really change up your usual recipes. Now is the time for those comforting hot meals that you may have avoided all summer. Read on to see how to make some delicious seasonal recipes for any climate.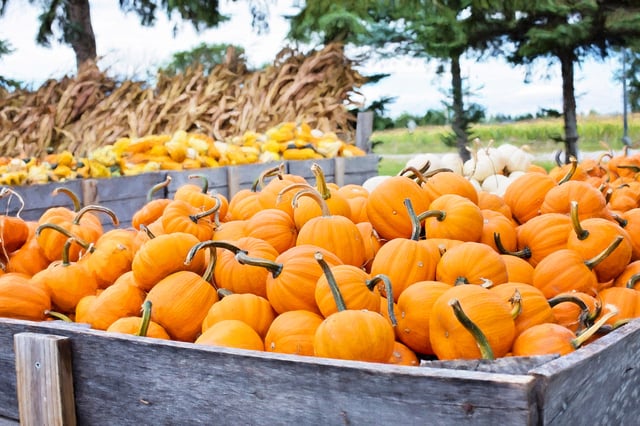 Pumpkin Spice and Everything Nice
Even if you don't like the hype surrounding pumpkin spice, you might want to still enjoy a pumpkin dish. From the meat to the seeds, pumpkins provide a great deal of vitamins with virtually zero cholesterol or fats. Pumpkin is so versatile that you can make sweet or savory dishes and sides, including breads, muffins, pastas, smoothies, soups, sauces, and spreads. The autumn gourd pairs well with cinnamon, cumin, ginger, nutmeg, and other spices to create familiar fall flavors. Canned pumpkin is always a viable option for cooking, but if you'll be carving a pumpkin or two anyway, don't let the extra meat and seeds go to waste. With the right recipe, even pumpkin haters might discover that they actually like pumpkin afterall.
Apples to Apples
Apples are a staple fall food because the many varieties come into season, making them easily available. While apple pie and apple crisp are crowd favorites, they aren't exactly the healthiest ways to use apples. We suggest eating these desserts in moderation, and using apples to make other meals more interesting. Baked apple chips are a quick and easy way to transform the fruit. After baking, you can eat these on their own as a snack or add them to salads. Apples can also pair well with chicken for a delicious fall meal. Besides the usual desserts doused with butter and sugar, you can also use apples for healthier alternatives like muffins or bars that use oats and the natural sugar in apples.
Squash It to Me
Despite the misnomer, a variety of winter squash are in season during fall. The many different shapes and sizes of the squash offer multiple ways of preparing them. Bake, sauté, or purée to get your desired textures from the squash. Many of them lend themselves for a simple chop and sear, while others–like spaghetti squash–are best when baked and scooped out. Like pumpkins, they can be made savory or sweet depending on what spices you use and what else you pair with them. Play around with a few different kinds of squash to explore which ones you like best.
Healthy Spice
There's nothing quite like sipping a warm drink when the weather is crisp. That warm drink doesn't have to be loaded with artificial ingredients or unnecessary sugars, nor does it have to be expensive or hard to make yourself. Two perfect fall beverages are a chai latte and golden milk. Both of these use cinnamon, which is proven to be good for your health because of its anti-inflammatory properties and its antioxidants. Similarly, the golden milk uses turmeric, which has nearly the same benefits. As temperatures get colder, it's important to keep your immune system strong, and these drinks can help while also tasting great.
Embracing shorter days and cooler temperatures is easier when good food is involved. Use what's in season this fall to create delicious, fall recipes that are in line with a healthy lifestyle. When in doubt, keep it simple and let natural flavors shine. If you're unsure what to make after reading these suggestions, the Internet is one click away.
If we missed your favorite fall meal or dish, leave us a comment below or tweet us! For more guidance on keeping a healthy lifestyle, subscribe to our blog.