Holiday season has arrived. After Thanksgiving, it seems like the holidays don't stop until the New Year, along with all the gatherings and festivities that are associated with each day. While often filled with lots of fun, the holiday season seemingly promotes many different kinds of unhealthy foods and drinks. While trying to live a healthy lifestyle, the holidays can become a source of stress rather than one of joy. If you fall into that category, have no fear. This post will focus on Thanksgiving in particular. Read on to learn our tips for the food-focused holiday.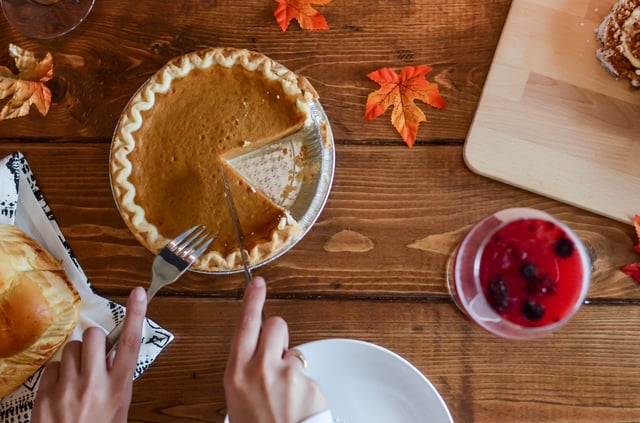 Eat the stuffing, don't be the stuffing
Overeating has almost become the norm for certain holidays, especially Thanksgiving. Some simple tricks can help you enjoy yourself without getting too full. It's psychological that if you have a smaller plate, you're more likely to eat less. Visually, a small plate packed with food seems like it has more than a large plate with lots of space between all the food. While eating, try to enjoy every bite and eat a little slower than usual. Sometimes, the feeling of being full doesn't set in right away. If you've taken your time and still feel hungry, then get a small portion of seconds. Eating more thoughtfully can help prevent you from feeling totally stuffed, which isn't healthy.
Contribute to the meal
The only way to ensure healthy options at a group gathering is to make them yourself. Whether you're with family or friends for the holiday, contributing more food is usually welcomed. Prepare one or two items that you'll enjoy, but that are also healthy choices. Use some in-season fall foods to make delicious side dishes like roasted brussels sprouts or mashed sweet potatoes. If you fill your plate with mostly healthy things, you won't feel as guilty having a moderate portion of less healthy items.
Make the whole day count
A Thanksgiving meal typically falls between 4-7pm, while some may do it even earlier or later. Regardless of what time you start the meal, there are steps you can take before and after to ensure the healthiest day possible. First off, don't skip breakfast! The meal is known as the most important for a reason: a nice, big (healthy!) breakfast kick starts your metabolism for the rest of the day. Starting your day with a good meal or two, depending on your schedule, will help you to not overeat come turkey-time (or tofurky-time). Second, don't forget about your fitness routine before the big meal. Try to fit in some aerobic exercise before dinner. Take that a step further by doing light exercise after you've eaten. Even a 10-15 minute walk can aid in digestion and reduce blood sugar.
Most important this holiday season is to enjoy yourself. Be as healthy as possible but don't feel guilty about that piece of pie you had. Enter the holidays knowing you might eat a few more desserts or have a few more drinks than usual. By using the above tips, you can make your Thanksgiving as healthy as possible! Encourage your friends and family to be healthier this season, as well. Living a healthy lifestyle is easier when you're not the only one!
For more help on how to navigate the holidays, subscribe to our blog. If you have any questions or comments, feel free to leave a note below or tweet us.