The new year is always filled with ads from gyms and diet companies that seem to prey on those with the resolution to get healthy. Statistically, gyms are busiest in January as the regulars mix with the newcomers, who are trying to stick with their resolution. Inevitably, gyms do clear out after a month or two as people give up and vow to try again next year. While a brand new year is a great excuse (and possibly a needed motivation) to make a change, the reality is that it's always a good time to work on yourself. Furthermore, it's never too late to make healthy changes in your lifestyle. As NPR recently reported, even people in their 90s and beyond should welcome the idea of a wellness routine. In this post, we'll share simple tips and tricks that people of all ages can do to make their lives healthier and keep it that way.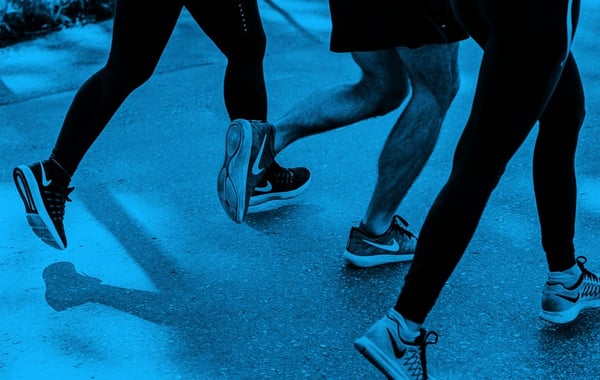 Walk More
We've mentioned it before, but it's worth mentioning again: walking is great exercise. Not only is it scientifically proven to help boost your mood, but it's one of the easiest ways to get your blood flowing. Anything that helps circulation is good for your brain. Poor blood circulation to the brain has been linked to numerous brain diseases that typically show symptoms in older age. To get started walking, there are plenty of good options. A treadmill, either at home or at gym, is an easy way to exercise in colder climates or when it gets dark early. Walking groups can allow you to potentially make new friends while also exploring new neighborhoods and trails. Even if you have a busy schedule, walking is one of the simplest, yet effective, exercises to make a priority.
Eat Better
Being healthy is not just about being physically fit through exercise. A good diet is a major portion of being healthy overall. Before cutting out all of your junk food and picking up bundles of kale at the grocery store, consider easing into clean eating. That way, you won't instantly feel like you're missing out on everything and you may even enjoy having healthy food. Being more realistic about changing your edit can help you stick with a new one. It's also important to understand that healthy eating still has many interesting options. Once you better understand how to eat healthily, you can meal plan to make your life much easier.
Plan Accordingly
Speaking of planning, having an idea of what you want to accomplish with your "getting healthy" resolution can help you stay focused and stay on course. Write down your long-term and short-term goals, as well as your reasons behind this resolution, for easy reference if you feel unmotivated. Share those goals with other people so they can help you stay accountable. You can also plan for failure. Embarking on a journey to get healthy is not easy. There will more than likely be times when you mess up or you want to quit. Plan on how to get yourself back on track when this happens. Remember that the first 3-4 weeks will be the hardest. After consistently following a new routine for that long, it will start to feel totally normal, thus easier to maintain.
Reward Freely
Treating yourself can involve more than just food. After hitting a significant milestone, reward yourself with new workout gear. Go to a movie or concert instead of going out to eat for a celebration. Find new experiences in your city that you can use as motivation if you succeed at your goals. If nothing motivates you more than a food reward, go for healthier options or at least smaller portions. Moderation is key for a reason!

The common adage "you can do anything you put your mind to" exists for a reason. When it comes to getting healthier, you're the only one standing in the way. With a sense of commitment, you can make 2018 the year you stick to your resolution. Use our tips to make your journey a bit easier. If you have advice for others, please let us know by leaving a comment below or mentioning us in a tweet. We would love to hear from you.
For more advice on living a healthy, balanced life subscribe to our blog! We publish almost every Thursday, mid-morning.