With Fourth of July right around the corner, summer is in full swing and chances are you have plans to grill sometime soon. When you think of barbecue, sweet or tangy sauces, fatty meats, and heavy sides might come to mind. While all of these foods are undoubtedly delicious, they're all quite high in calories and don't contribute many vitamins or nutrients to your body. If you're on the path to a healthy lifestyle, or if you're already living one, you don't have to miss out on summer barbecues! There are plenty of options to make your BBQ a healthy and flavorful one. Keep reading to learn our suggestions on how to do just that.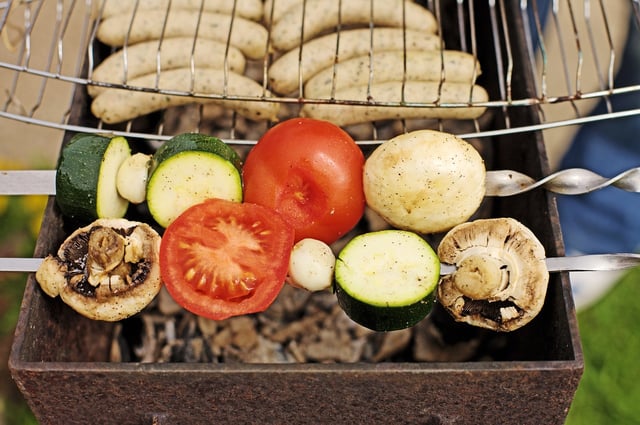 Fish & Chicken
Traditional barbecue typically involves pork, which is a highly fatty meat. The high fat content of pork makes it juicy and delicious, but obviously not as healthy as leaner alternatives. This summer, try grilling fish and/or chicken! Both offer plenty of flavor when prepared correctly, while cutting calories and unhealthy fats. As far as fish options, there are plenty of kinds to choose from: tuna, salmon, cod, and sea bass all grill well without totally falling apart. If you'd prefer another variety of fish, wrap it in foil before putting it on the grill. The flavors will get packed into the fish, and it won't get stuck to the grill. As for chicken, a good marinade will keep it from getting dry while also providing it with better flavor. The foil trick will also keep any juices in to really prevent a dry meat. If you feel like you're missing out on hot dogs at a barbecue, try grilling up some chicken sausages.

Fruits & Veggies
Fresh fruits and vegetables are perfectly edible and tasty raw, but you can also spice them up by grilling! The heat involved in grilling typically enhances the natural sweetness of fruit and veggies, making them even more palatable. Fruits that grill particularly well include peaches, pineapple, watermelon, apples, and pears; they should be firm and barely ripe for best results. Vegetables that perform well on the grill include bell peppers, asparagus, squash, zucchini, onions, mushrooms, eggplant, and even more! Make the perfect summer appetizer by preparing kabobs of your favorite fruits and veggies (separately or mixed). Fruits and veggies are a much healthier alternative to the usual BBQ sides.

Sauces & marinades
As mentioned above, the right sauce or marinade can totally change your meal. The easiest way to dress your protein and veggies is with some olive oil, salt, and pepper. Fruit can be left alone or drizzled with some honey to make the flavors really pop. If you'd like to get more advanced than simply olive oil, try other basic seasoning agents such as soy sauce, sesame oil, old bay, balsamic vinegar, dill, garlic, lemon juice, ginger. A good rule of thumb to follow is to include: oil, acid, something salty or sweet (or both!), and herbs, onion, or garlic. Using oils with healthy fats and not too much salt and sugar will keep your marinade as healthy as possible.

Living a healthy lifestyle does not mean you have to miss out on fun events, like a summer barbeque. There are almost always ways to turn typically unhealthy meals into healthier versions that are still delicious. Also, remember that portion sizes matter as much as ingredients, and that moderation is key. If you want that pie à la mode for dessert, don't hold yourself back! But, try to go for a smaller slice and scoop.

If we missed your favorite (healthy) BBQ recipe, leave us a comment below telling us what it is or tweet at us! For more tips on how to stay healthy year-round, subscribe to the blog and follow us on social media.