We can't believe it's already December. If the end of the year has snuck up on you too, it's possible that your fitness routine has fallen by the wayside. First of all, it's okay if other responsibilities have taken priority. It is always a good time to re-prioritize and see how you can fit in exercise. While you're already busy during the holidays, there are plenty of ways to incorporate some exercise into what you're doing. By purposely being a bit more active, you will be able to complete your to-do list while simultaneously checking off working out from the list.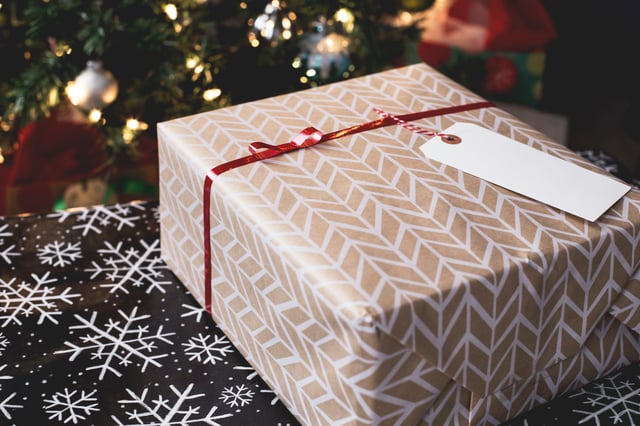 Working
Despite the excitement surrounding the holiday season, you still have to work every day. You may even have more to do during this time of year. If you work a 9-5 job, chances are you sit at a desk for most of those hours. When you've got a lot on your plate, eight hours of work seems to take up an even larger portion of your day than usual. By the time you get home, you've got other stuff to do, and exercise can get pushed to the side. Luckily, you can incorporate some simple exercises into your workday with minimal effort. We have a whole post dedicated to fitting exercise in at the office.
Shopping
For whatever holiday you celebrate, presents or some sort of gift-giving is usually involved. While gifts are certainly not the most important part of any holiday, shopping for presents is actually an excellent way to be active. A large mall with lots of stores to visit provides ample opportunity to get moving. Walking is better exercise than you might expect: it's great for your heart, your joints, your brain, and more! By walking around stores, you provide yourself with just enough distraction that you'll probably walk more than you expect. If you're looking for even more movement, take the stairs or actually walk on escalators rather than taking the elevator.
Wrapping
To go along with the previous two tips, wrapping gifts can be a little more active with a slight adjustment. Instead of sprawling all the supplies and yourself on the floor, make space on a table or countertop to be able to stand while wrapping. Have one, long wrapping session with everything that needs to packaged so that you can stand for longer. While this action could seem insignificant, standing more throughout your day is one of the simplest ways to be active.
Decorating
Hanging lights up outside and around your home is no small feat. Making the effort to put up lights and decorations definitely counts as being active. Going up and down a ladder, carrying bundles of lights or larger decoration, or passing from indoors to outdoors all count as being active. When choosing a Christmas tree, consider cutting one down yourself from a tree farm for the added strength exercise. Cutting down your own tree is also sure to be a fun memory. Decorating may not seem like exercise at first, but it certainly includes moderate activity that can count towards your 150 minutes per week.
With the stress that can accompany the holidays, working out would be a great way to release that stress. However, the holidays also tend to be an incredibly busy season for business and personal reasons, making it hard to find time to exercise. Using the tips above, we hope you can carry out your schedule while also enjoying the last month of the year, all with the added benefits of physical activity. While fitness is an important aspect of a healthy lifestyle, remember to focus on your mental health, as well.
If you have a favorite way of staying active during the holidays, feel free to share it by commenting below or tweeting us. For more guidance on finding the balance between a busy and a healthy lifestyle, subscribe to the blog.