It's been getting warmer for a few weeks already, many schools have held their graduation ceremonies, and the days have been noticeably longer. All of these occurrences mean that summer is officially around the corner! As the summer solstice approaches, it's time to prepare for all of the fun activities you can do during the summer months. You may already be enjoying the outdoors with spring activities, but there is even more to do during June, July, and August. Read on to see how you can spend your free time (and maybe vacation time!) staying active and combatting the heat.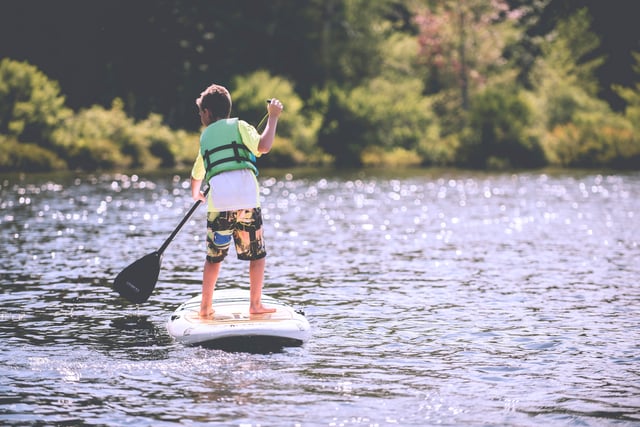 Swimming
The obvious choice for a summer activity is obvious for a reason. Swimming is the perfect way to cool off on a hot summer's day. Besides being relaxing or stress-reducing, swimming is also an excellent form of exercise for all ages because it is low-impact, with plenty of other benefits. For someone trying to begin a fitness routine, swimming during the summer is an easy way to exercise at your own pace. This summer, find out what your city has to offer! Pools are always fun, but a nice lake, beach, or other watering hole may be a short trip away.
Kayaking, canoeing, stand-up paddleboarding
Like swimming, activities on the water can help you avoid heat exhaustion while still giving you a nice workout. Kayaking, canoeing, and stand-up paddleboarding are usually inexpensive to use since the equipment can typically be rented, and you get the bonus of having to exercise your muscles while enjoying them. By summertime, many water rental businesses will be open and ready to help you have fun and be active.
Rock climbing
While many areas have perfect weather to be outdoors during the summer, other areas are nice in the spring then get too hot to comfortably be outside. On these days where the highs hit triple-digits, rock climbing offers a respite from the heat and the opportunity for a fun workout. Climbing is suitable for all ages since it has varying levels of difficulty: kids can use a short bouldering wall, while adults can try a larger bouldering area or attempt roped walls. Whether you're a pro or a total beginner, rock climbing is an excellent way to burn calories and maybe tire out active kids.
Playing volleyball
Since summertime often includes beach or lake trips, make the day a lot more active by playing some volleyball! It's a game that can include players of all ages, and only gets as intense as you make it. While having a volleyball net can make it more official, one can still enjoy and play by the rules of the game without having the net or even a real volleyball. Play with whatever light-weight ball you have on hand, whether it's an indoor volleyball, a beach volleyball, or even a kickball. Not going to a beach this summer? No problem! You can still play for fun in a backyard or a large (empty) driveway.
Summer is a great time to relax but don't forget to balance that with adequate physical activity. We encourage you to stay active all year long, and hope that this list gives you some inspiration on how you can get a workout in while having a great time. Whether you try these activities alone or with friends and family, the important part is that you were active! If we missed your favorite summer activity or you'd like to expand on one that we mentioned, let us know in a comment below.
For more tips on how and why to incorporate more physical activity into your lifestyle, subscribe to our blog and follow us on social media!