Every season has particular fruits and vegetables that are especially fresh during those months. The spring typically yields a number of ingredients to try, with a nice balance of savory and sweet. With Earth Day on April 22nd, try celebrating with foods that grow naturally! Your body will thank you for giving it unprocessed nutrients. However, what do you do when you want to eat in-season produce, but aren't sure how to serve it best? Keep reading to see what you can throw together with this spring's options.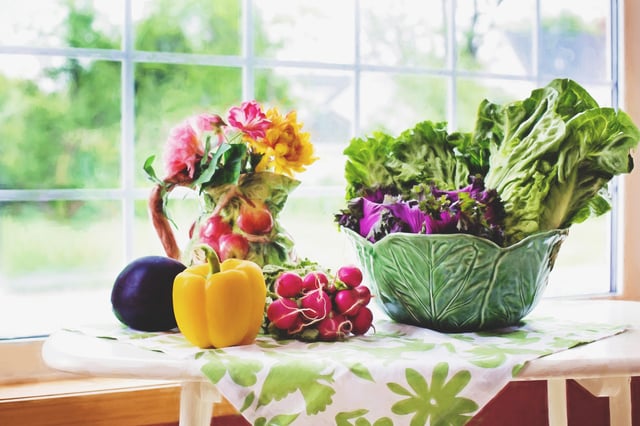 Superfood Salad
A salad seems like the obvious option to combine lots of green veggies, but that doesn't mean it has to be boring. Start with a leafy base of butter lettuce, mustard greens, radicchio, and spinach for a variety of textures and flavors. Next, add in some corn and fava beans. If you eat dairy, add some goat cheese or feta for added flavor complexity. Top it off with some chopped strawberries and walnuts to complement the rest of the flavors, while also adding more vitamins and healthy fats! Keep everything light by making your own simple dressing of balsamic vinegar or red wine vinegar, and olive or avocado oil.
Hearty Soup
Depending on where you live, spring may not bring warm temperatures. If you'd rather make a big pot of soup than a salad, then this is the recipe for you. Broccoli, corn, fava beans, and snow peas all come together nicely in whatever broth you'd like. Choose a chicken or vegetable broth base to keep it light, or make it a bit heavier with a creamier consistency. Toss in potatoes, noodles, or beans to make it even heartier.


Fresh Fruit Salad
Use as many seasonal fruits as you can for a delicious fruit salad full of vitamins. Chop up pineapple, oranges, mango, strawberries, honeydew, and lychee for a healthy, sweet treat. This fruit salad is the perfect dessert for a hot day! Put it in some Tupperware to take it with you on one of your springtime outdoor activities.
These simple recipes are meant to give you inspiration for using spring produce in whatever way you'd like! Although these recipes include only what it's in season, add in whatever you can find at your supermarket or farmer's market. Also, each recipe listed highlights what's in season–fruits and veggies–but adding in your favorite protein is always a good idea, whether it's lentils or beans, fish, poultry, or red meat. This Earth Day, celebrate with what's naturally in season: it's all delicious!
Do you have a favorite spring recipe? Let us know what it is in a comment below, or email us directly–we may repost it on our social media. For more tips on healthy habits, subscribe to our blog and follow us on social media!