By the time summer is officially here, farmers markets are in full swing, offering fresh, often local, produce and other products. Hitting the farmers market is typically the easiest way to get in-season produce at a reasonable price. Using fresh foods can seem daunting if you're not used to cooking, but there are recipes for the most novice at-home chefs of any age. Getting kids in the kitchen is a great way to keep them busy during summer break, and is useful for them all year long. Keep reading to learn how to confidently approach fresh foods with some fool-proof recipes.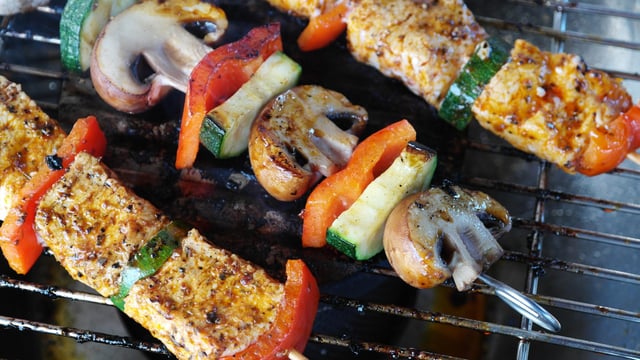 Smoothies
There's nothing better on a hot summer day than a cold, refreshing beverage. While ice-cold sodas or iced tea can be tempting, they are usually full of unnecessary sugar. Instead of consuming so much extra sugar, make a fresh smoothie with your favorite flavors. Summer yields plenty of fruits and vegetables to make any kind of smoothie you'd like. Go for green with cucumber, spinach, mint, pear, and some grapefruit. The citrus will cut the potentially grassy flavor of the spinach, while brightening up the smoothie as well. If green smoothies aren't your thing, you can still get plenty of vitamins and nutrients using peaches, raspberries, strawberries, and cherries. Add in some beets to make it even healthier. For any smoothie you make, throw in a liquid such as water, coconut water, or almond milk to thin it out, or add in some yogurt or oats to thicken it.
Simple Salad
While you can still make a superfood salad or a fruit salad with summer produce, you can also make an ultra-refreshing salad with just a couple of steps. Watermelon hits its peak in the summer, becoming easily available in supermarkets and farmers markets. With just watermelon, feta cheese, and some mint, you can make this classic, healthy dish. The sweet and salty combination is bright and flavorful for only three ingredients. Eat it at home and take it with you on the go as a quick snack.
Veggie BBQ
With Memorial Day, Fourth of July, and Labor day as the beginning, middle, and end of summer, it's safe to say that grilling and barbecues are a summer staple. While grilling can involve a lot of meat and sugary barbecue sauces, you can add healthy items to the grill to make it a more balanced meal. Corn, bell peppers, eggplant, zucchini, and summer squash are all in-season and all cook well on a grill. Cook them individually or divvy them up into summery veggie kabobs that everyone can enjoy.
Have fun this summer! Whether that fun is had while staying active or conquering the kitchen, take advantage of your time this summer. These recipes are doable for any age who'd like to try them, and are certainly modifiable for allergies and preferences. Enjoy all the recipes on their own as a snack, or add them as sides to more balanced meals. If we missed a summer recipe that you like, let us know in a comment below! Subscribe to this blog and follow us on social media to keep up with ideas on how to be active this summer and year-round.