Have you lost track of how many days you've been indoors? Bored to tears because of social distancing and self-isolation? Blue Goji is here to help. Our marquee AR (augmented reality) game, Furiends is available for free to download on your mobile device.
The Deets
Designed to simulate the experience of raising a furry canine friend, Furiends could be just the thing to relieve some of the stress associated with Covid-19 isolation. Ready to play on iOS and Android, this game enables players to customize their furry companion in a variety of ways, beginning with which dog you would like to adopt. The more time you spend with your Furiend, the more rewards you receive. Earn points and tokens that are redeemable for treats, toys and other accessories that allow you and your Furiend to grow together.
Paired for Better Health
The game pairs itself with your mobile device's health app, tracking your daily walking and total steps taken. It then gives you daily rewards based on your activity levels. In essence, the game rewards you for being active and spending time with your virtual dog.
Capture the Moment
A signature feature of Furiends that allows your family and friends to share in the fun is taking pictures of your dog interacting with the real world. Your AR companion will get into all sorts of humorous poses, and you can use your device's camera to immortalize and share the moment.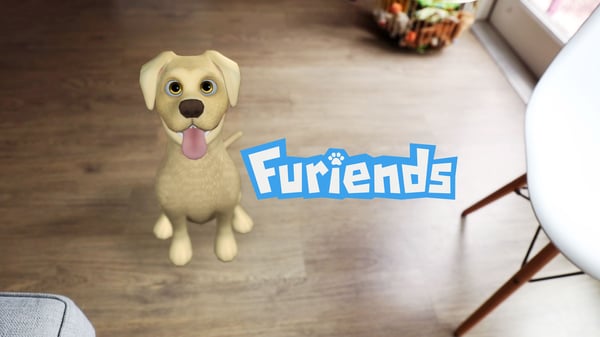 Furiends offers users all of the joys associated with raising an animal. Your Furiend depends on you for food, water, attention and training in this all-encompassing virtual game. They even make virtual messes that require users to clean up using a handy spray bottle. In a nutshell, Furiends is an ideal way to escape into an augmented reality with your loyal and loving, virtual puppy.
Make sure to share any photos or videos you take in-game by tagging us on Instagram @playfuriends and on Twitter @furiends. We always reshare! While we hope you play Furiends, we also hope you stay safe and healthy in this time of uncertainty.