What is the Infinity System?
Imagine a treadmill that is infinitely more than a machine that simulates long-distance running. Picture a machine that can transport users to far away, fantastic landscapes, engage them in cognitive training, instantly track and transmit movement data, capture and keep their attention during an exercise session, all while keeping them safe and supported in a secure environment.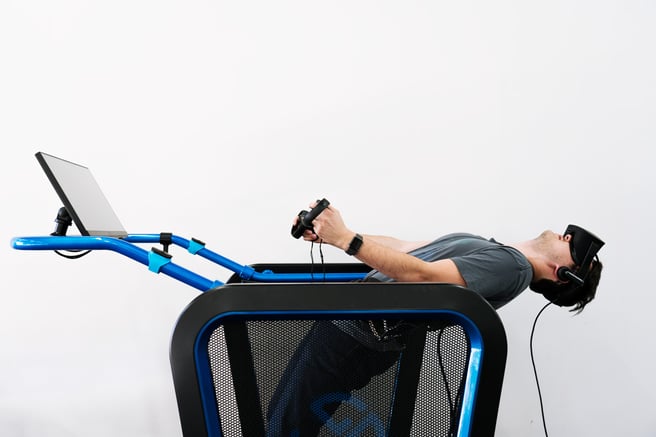 The Specs
At its most basic level, the Infinity is a treadmill, custom-designed and patented by Blue Goji, manufactured by Woodway Treadmills.
It utilizes a tread consisting of 60 individual slats that absorb and distribute users' weight across several points within their stride.
It is non-motorized, which enables users to set their own pace, while simultaneously reducing the risk associated with traditional, motorized treadmills.
The Infinity has a magnetic braking system that completely secures the belt when users are not engaged in activity.
Additionally, the magnetic brakes are capable of dynamic resistance, increasing and decreasing the difficulty of user movement.
A state-of-art safety harness keeps Infinity users stable, secure, and squarely within the confines of the belt.
Full spec sheet here.
The system is equipped with both 2D and virtual reality gaming components. A diverse game library offers experiences and challenges for users of all ages, abilities, and limitations. Our user-friendly interface makes it easy for patients and staff with limited computer expertise to navigate the platform.
As well, different games are tailored to target specific aspects of a user's brain function. Depending on a user's needs, our VR and 2D experiences can engage them in dual-task exercise, focusing on intentional cognitive ability. In other words, the Infinity experience is customizable, based on a user's individual needs.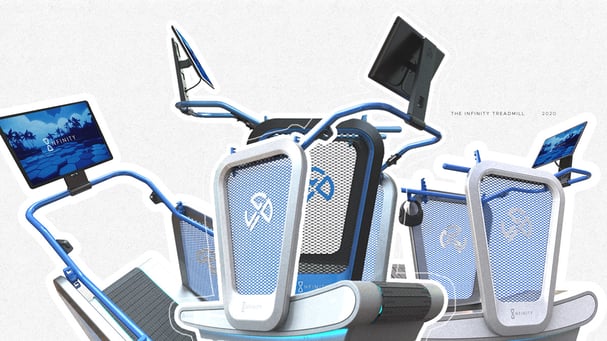 Mobile Apps
Blue Goji also has a cutting-edge network of mobile applications that are intended to be paired with user activity on the Infinity System. These apps act as a central hub, providing users with online community support, activity tracking, and resources for dealing with their specific health needs. All of this is available through the secure online GojiVerse portal, where users can be as anonymous as they wish, while designated monitors oversee online chats and group interactions.
Overall, the Infinity System is a completely novel approach to proactive healthcare, consisting of a uniquely advanced treadmill, employing a customized operating system that is capable of running dual-task focused Virtual Reality and 2-dimensional video games, supported by a network of mobile applications, designed to engage users and provide them with additional resources for bettering their physical and mental wellness.