This past weekend, from January 27th to the 29th, Blue Goji exhibited at PAX South 2017. This gaming expo garners tens of thousands of attendees every year who come to see the latest in video games, tabletop games, and gaming technology. Since two of our virtual reality games are already available, we took the opportunity to show off what we've developed over the past year.
Virtual Reality
In 2016, we worked on expanding into virtual reality to release engaging games that are fun with or without an exercise component. By the very end of the year, we had two games ready for the public. At PAX, we demoed DinoFense (now on Steam & the Oculus Store!) with an HTC Vive headset and controllers to an array of attendees, ranging in age from about six to upwards of mid-fifties. To keep the line moving, we only showed off Level 1, however the game gets much more intense as the game progresses. Purchase today and let us know what you think! Even the lead developer has not yet been able to defeat the last level. Can you?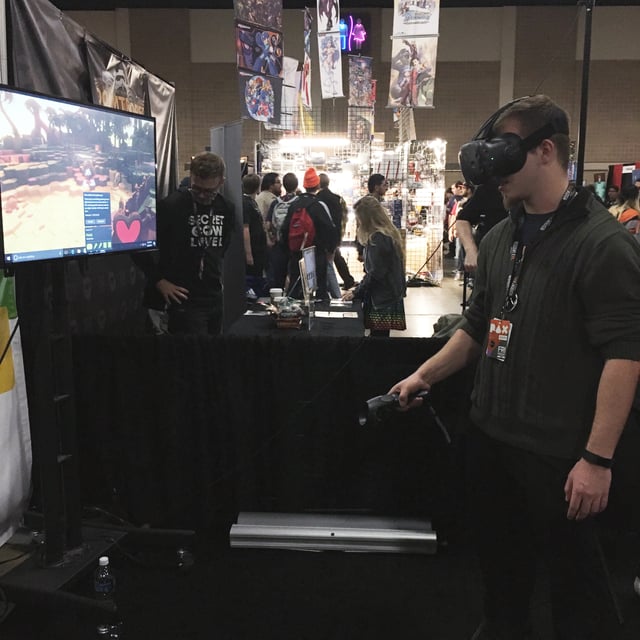 Goji Play in VR
Besides DinoFense, we wanted to feature our compatibility with third-party games. If you've followed us for any length of time, you know that our platform involves making fitness a fun and unique gaming experience. At this year's PAX, we can safely say that we had the only exercise equipment in the entire expo hall. Our fitness demo involved an elliptical, an Oculus Rift VR headset, Goji Play controllers, and racing game Radial G. These elements all worked together to produce our special VR exercise experience. Attendees stepped onto the machine, put on the headset, placed their fingers on the bottom left and right buttons of the controllers, and began to jog. Within the virtual world, they saw a futuristic landscape of a tube-shaped racetrack, and other racers around them. As the arch in front of them counted down, it changed from red to green. Right when the color shifted, racers took off, including the attendee on the elliptical–if they were jogging.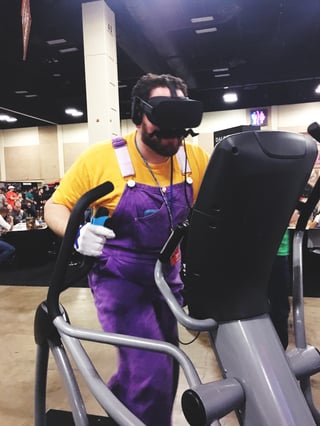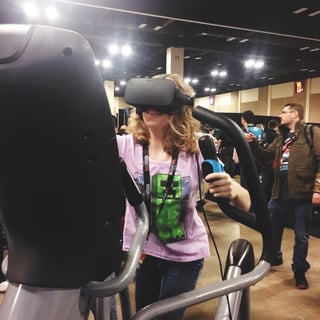 Thanks to the accelerometer and a Bluetooth connection in our Goji Play controllers, movement on the cardio machine is translated into speed in the game (to a degree). We don't want anyone to risk injuring themselves by going too fast during a demo, so the threshold has been dialed back to max out speed at a jogging pace, rather than a sprint. However, if your movement on the machine stops, your character will stop as well. If you want to win the race, you must exercise.
Reactions & Questions
Attendees of all ages, the same age range as DinoFense, truly enjoyed their VR cardio experience. Many exclaimed how surprised they were that they broke a sweat, how different and exciting the concept was, how disorienting a race in VR can be, how this would make them exercise, but overall how fun it is to virtually race with real motion. Besides the positive comments, we also received numerous questions about the setup, most notably the Goji Play controllers.
Our VR exercise setup does not need a special elliptical, but focuses on the little blue controllers. Unfortunately, they are not on the market at the moment. We're thrilled that so many people expressed interest in purchasing them, and will update you if availability changes.
Beta Program
In the meantime, we encourage you to sign-up for our Beta Program, where you can test out the system whether you attended PAX or not. To participate, we require people to already own a compatible VR headset (Oculus Rift, DinoFense, or GearVR) or to have a serious intent to buy one. We don't recommend purchasing a headset solely for this testing. Send us an email with the subject line "Beta Program" to sign up.
We are so grateful to everyone that stopped by our booth at this year's PAX South! We enjoyed showing off what we do and hope everyone enjoyed playing our games. To keep up with any announcements, make sure to follow us on social media. We frequently post about upcoming events and various updates.