The lights flash in sequence: red...yellow...finally green. The race is on and the cluster of speedsters explode forward, charging along the pathway to glory. The setting is fantastically colorful as the player rushes past carnivals, mountains and oil tankers, in a frantic effort to outrun the competition. Just when they think they have a lead, an ice bomb clouds their field of view and freezes them in place. They are left helpless and all the challengers pass by.
After a few frozen moments–that feel like years–the user engages the boost button, instantly making up lost ground as they careen ahead. Grabbing an item token, they are rewarded with a Bowling Attack. Taking careful aim, the user launches the oversized bowling ball at the unsuspecting racers. It bounces from side to side of the track, flinging helpless racers caught in its path. In just a matter of seconds, the user has gone from leader, to last, and suddenly they are back in the mix for first. All of this already and they haven't even reached the 100 foot jump over the swamp.
A New Flagship Game
Things can change just that fast when you play GoBikes on the Infinity System. Designed to be a competitive game with multiplayer functions that can be scaled to the skill level of players, GoBikes is one of our marquee VR games available on Infinity. With a wide variety of levels and game modes to choose form, GoBikes is a game that displays all of the advanced features of the Infinity system: adaptive resistance, varied difficulty, cutting-edge VR gamescapes, competitive gameplay, gait analysis, and human-joystick control enhancements.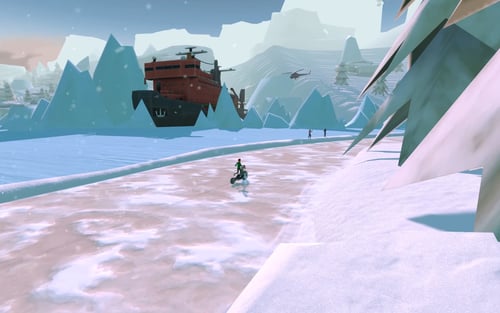 GoBikes requires that players employ a mastery of timing and control as they traverse the racetracks, which vary not only in style and location but also in difficulty. It offers an avenue for fierce competition between rivals, while also being friendly enough for players to take a casual ride through an island or antarctic environment. The possibilities are endless for users wishing to experience a ride that is like no other.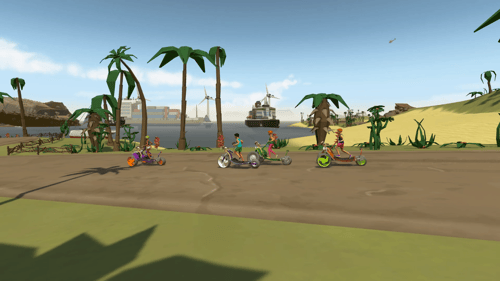 More to Come
This game is one of many that have been designed by our development team for the specific features of the Infinity. It will be available for play when Infinity is officially released later this year. To sign up for updates on the exact release date of the treadmill, visit its dedicated page.
For more information about our upcoming release and games that will be playable on the Infinity System, make sure to subscribe to our blog and follow our social media (we're @bluegoji everywhere!). What are you most excited to see on the system? Tell us below, along with any other questions or comments.