It's no secret that games, both 2D and VR, are becoming a source of entertainment with positive effects on mental and physical behavior. Conferences with new VR tracks, like Games for Change, evidently have enough material to host such an event. The consensus that playing too many video games is bad for childhood development could become an idea of the past if these games continue to be released and used properly. The future of both health and health education could be greatly influenced by the possibilities encompassed by virtual and augmented reality. Keep reading to see exactly how games can be used for good.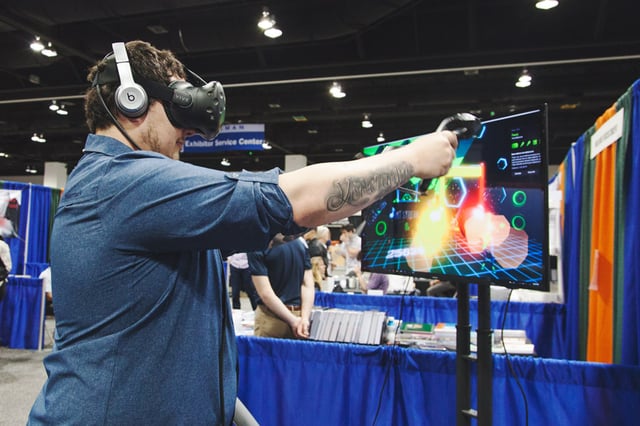 Physical
The most obvious use of VR for health is creating physical activity through gameplay. Pokémon GO took the world by storm with it's interactive AR mechanics that encouraged users to walk around while playing. The very nature of virtual and augmented reality opens the door to switching from sitting in front of a screen to activating a space while playing. While some VR games only require minimal head and hand movements, there are others that use the whole body. Here at Blue Goji, we take that extra step with our technology that pairs virtual reality with physical and cognitive exercise. Some of our games utilize the upper body to keep you moving. Others require that you be walking or jogging while engaging in game play and problem solving.
Mental
Besides helping users to get physically fit, VR offers the opportunity for mental health benefits as well. There are myriad meditation experiences available for the various headsets that aim to guide users through breathing exercises and mindfulness practices. These VR experiences are not exactly video games but still use similar mechanics to help motivate users to keep coming back. Additionally, VR has provided new opportunities to developers to target brain diseases, like Alzheimer's and dementia. In the future, it may be commonplace to diagnose certain diseases through VR.
Educational
Because virtual reality can place you in a new world or present you with new situations, even impossible ones, it can be an amazing tool for education. Currently, there are VR games and experiences to help people learn about surgery and human anatomy and physiology; there are games about cooking; and there are even games for job training. The possibilities are seemingly endless and certainly include the health and wellness sector. Those that are visual learners could benefit greatly from learning in VR. Our game GoWings Safari is in development for an educational update that will teach users about the African Savanna while they walk through it.
It's becoming common knowledge that virtual reality is a growing force in healthcare and beyond. Video games now offer opportunities that technology simply didn't allow for in the past. With the right kinds of games, it may no longer be an issue to get hooked: "Combining indulgent fun with health benefits is just desserts for anyone who was told while growing up that playing video games is bad for you." While face-to-face interaction isn't something that can be replicated 100%, there is a huge amount of potential in VR, AR, and AI that is set to reveal itself in the coming years.
(Originally published March 2017, Updated April 2020)