Another year has come and gone at Blue Goji! As we predicted in last year's post, 2017 was a year focused on virtual reality. While we veered away from the consumer market, we continued to produce and develop VR content. Keeping with our mission to make exercise fun, all of the VR games aim to get you moving, either with or without our Goji Play controllers. Currently on our roster, we have DinoFense, GoWings Safari, Cardio Racers, PunchBeat, and Parkour Runner, with a few more on the way this year. Throughout the year, we showcased these games at events and conferences around the country to attendees' delight. Many people who participate in our demos have never tried VR before, while the vast majority have never never coupled VR with exercise. It was incredible to see the great reactions of people enjoying themselves using our setup. In 2018, we plan to keep the good momentum going with some brand new concepts.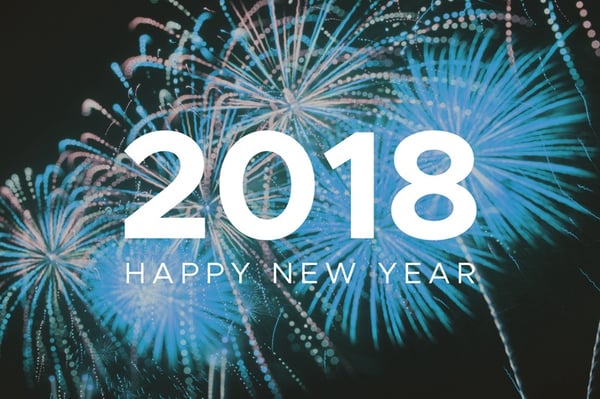 GojiCare
At the beginning of 2017, GojiCare was a vague idea. Thanks to the hard work of our entire team, the idea came together into a wellness program that uses our games and health apps to keep people on track with a healthy lifestyle. This month we will be launching our Beta Program to a small set of users before it is fully released later in the year. Get in touch with us today if you'd like to join!
Augmented Reality
While 2017 was the year of VR, 2018 will be the year of AR. Around May, we will be releasing a brand new augmented reality title for mobile users. We know how fun it's going to be, but we're not giving away too much just yet. Follow us on social media to be the first to know any updates on the game.
Events
We value the connections we make every time we exhibit at a convention. Rather than showing our games at events based solely on video games, we switched our focus to more health-centric events, like physical therapy and sports medicine expos. Last year, our CEO was able to meet the founder of SuperChefs, whom we later collaborated with to incorporate Goji Stations into their summer program. We also connected with Woodway at a physical therapy event, and continued to develop a relationship with their team as we saw both exhibited at more shows.
Hardware
Having the chance to meet the Woodway team was transformative for the future of our company. We are now partnering with them to expand further into hardware. More details about our collaboration will be shared later in the year.
Thank you to everyone who has kept up with us for the past few years! We appreciate the support that has come ever since we released Goji Play 1 all the way to now with our ActiveVR. The best way to keep up with us is by subscribing to this blog and following us on social media. As a blog subscriber, you will receive one email a month listing our most recent blog posts, allowing you to keep up without being annoyed by too many emails. Following our social media will you give you the quickest access to our announcements throughout the year. While not sharing info about Blue Goji, the blog and our social media are dedicated to providing the best tips for a healthy, well-balanced lifestyle.
Here's to a new year with Blue Goji!